From our friends at ohmy.disney.com
News Marvel
Everything You Need to Know About the Upcoming Marvel Studios Slate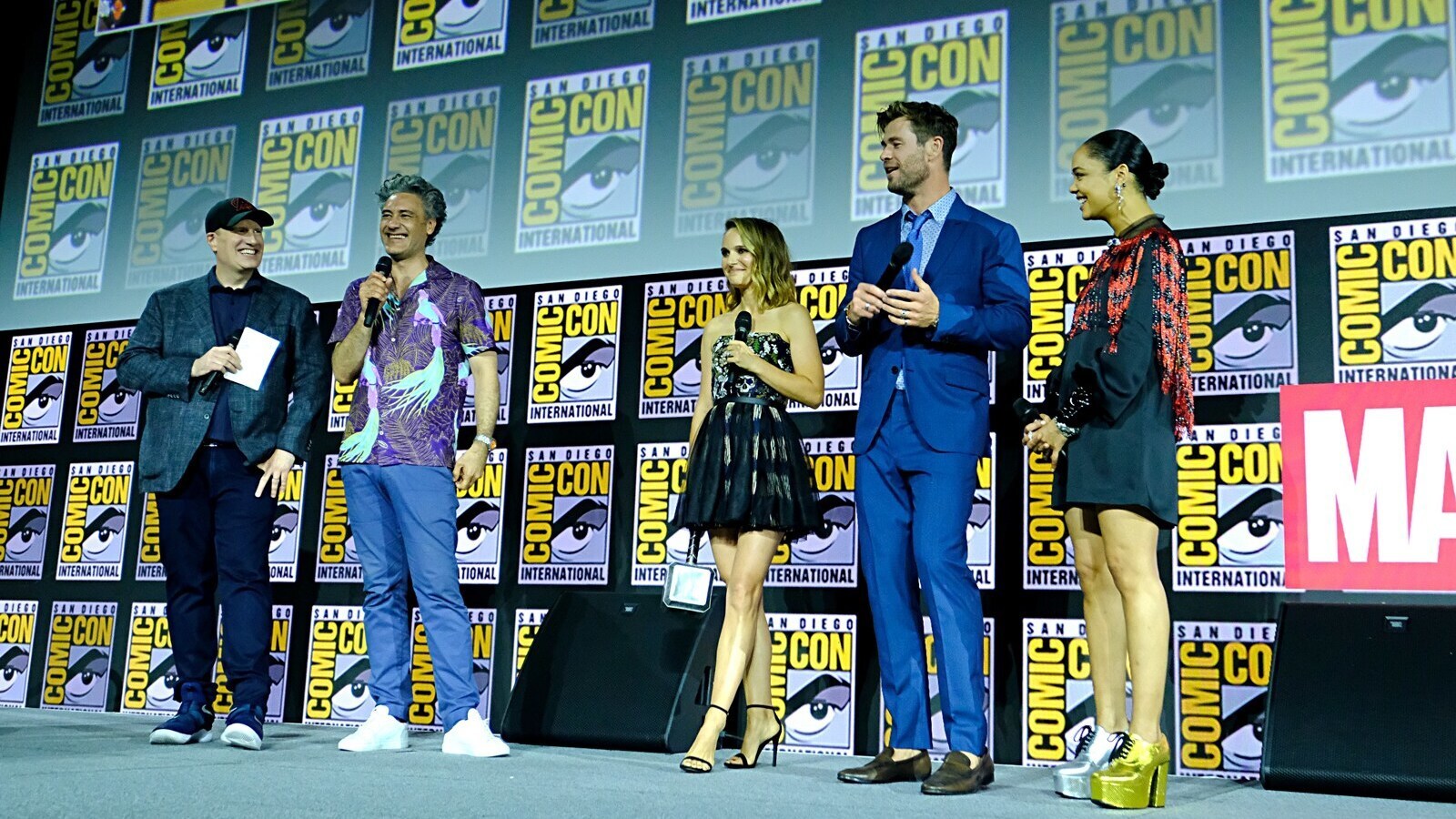 Today at San Diego Comic-Con, Marvel fans across the world were blessed with not just one, but several insanely huge, exciting film announcements.
If there's one thing we know to be true in life, it's that when Kevin Feige, head of Marvel Studios, makes an announcement, you listen. Today at San Diego Comic-Con, Marvel fans across the world were blessed with not just one, but several insanely huge, exciting film announcements.
Buckle up, folks, because things are about to get EPIC!
First up, The Eternals! Set to release on November 6, 2020, this film features a cast that could not look MORE AWESOME! Starring in this flick are Richard Madden as Ikaris, Kumail Nanjiani as Kingo,  Lauren Ridloff as Makkari, Brian Tyree Henry as Phastos, Salma Hayek as Ajak, Lia McHugh as Sprite, Don Lee as Gilgamesh, and Angelina Jolie as Thena. Chloé Zhao is set to direct.

Next up, we got our first look at Shang-Chi and the Legend of the Ten Rings, slated to arrive in theaters February 2021! Making their entrance into the Marvel Cinematic Universe for this film are Simu Liu (playing title character Shang-Chi), Tony Leung (as The Mandarin), and our girl Awkwafina (in a yet-to-be-announced role).

Get ready to get strange in May 2021 with the Doctor Strange sequel, Doctor Strange in the Multiverse of Madness! On hand to help present was Doctor Strange himself, Benedict Cumberbatch, and director Scott Derrickson. The big news for this film is that Elizabeth Olson (aka Scarlet Witch) will be in the film as well, and that the events of her Disney+ series, WandaVision, will directly affect her in this film.
Continuing unofficial geek Christmas was the announcement that a fourth Thor movie, Thor: Love and Thunder, is officially in the works! Directed by returning fan-favorite Taika Waititi, the film will star Chris Hemsworth, Tessa Thompson, and Natalie Portman as … wait for it – FEMALE THOR! If that's not a mic drop, we don't know what is! Will Korg be in the film? What will Valkyrie be like as a ruler? The answers will be revealed come November 5, 2021.
Okay — deep breaths, folks, cause we're not done yet. On May 1, 2020, we'll be getting a film that many of us fans have been anticipating for years! Yup. That's right: Black Widow. Joining Scarlet Johansson will be Florence Pugh as Black Widow's sister, Yelena, David Harbour as Alexei, Rachel Weisz as Melina, ‪and O-T Fagbenle as Mason! Cate Shortland is directing the film.

Closing out the panel was the super surprise announcement of an all-new Marvel film, Blade, starring Mahershala Ali. Release date TBA.
Don't mind us. We'll just be over here sobbing.
AND THAT IS HOW YOU DO A COMIC-CON PANEL, FOLKS! We don't know about y'all, but this is definitely a day we'll be recounting to our future grandchildren.
Believe it or not, this was just half of all the announcements shared at today's info-packed panel, so be sure to head over to our second article from the panel, highlighting the latest info on the Marvel Studios shows headed to Disney+, Disney's upcoming streaming service!
Disney+ is available for pre-order in the US. Be among the first to have it and start streaming November 12.